The organization dashboard is a central hub for observing multiple projects via graphs and historical insights.
Exploring the Dashboard
The dashboard UI serves as a platform for overseeing various projects within an organization. Accessible from the project home, it enables users to filter projects, refresh lists, switch between different viewing options, and create new projects.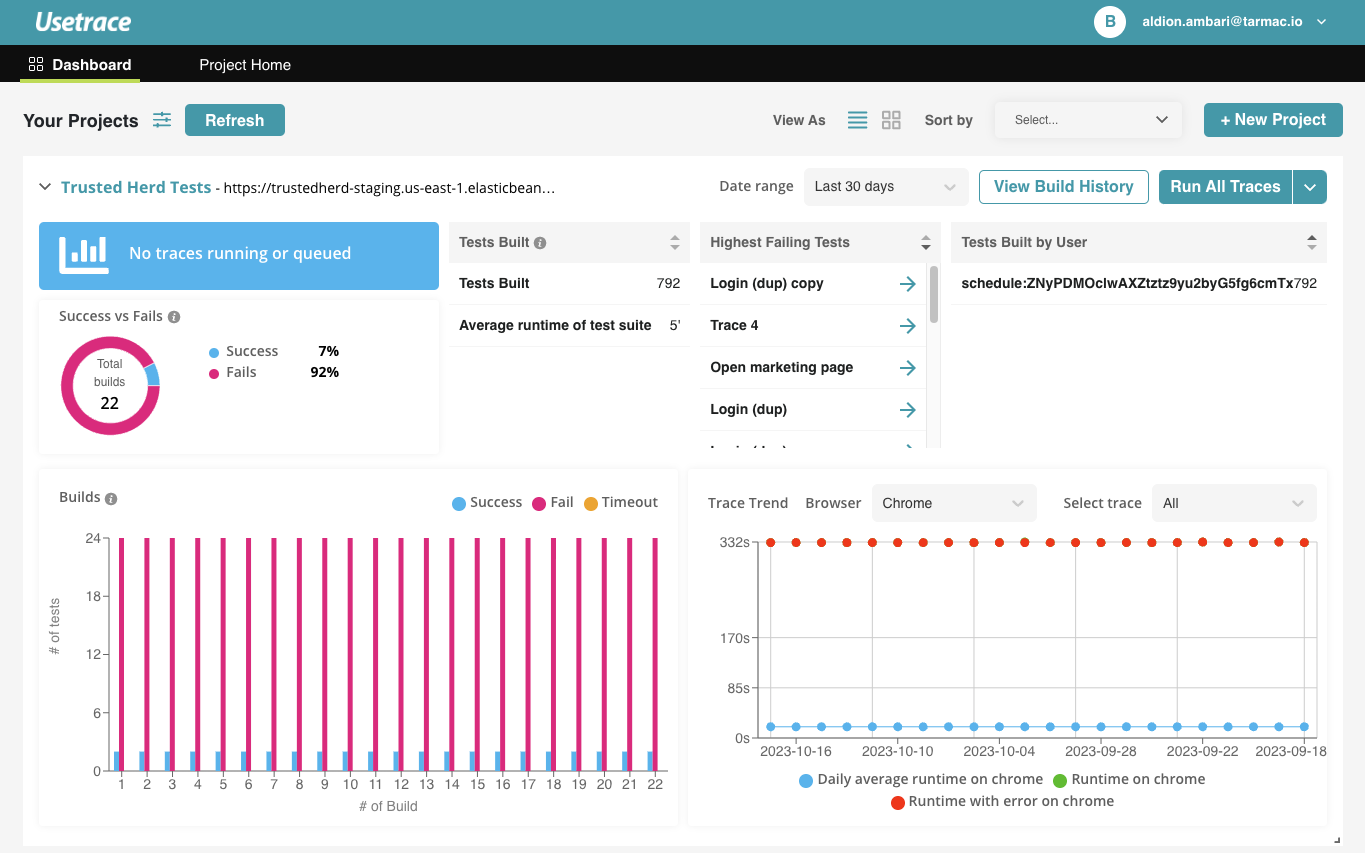 The widgets listed in the dashboard provide valuable and essential information about the builds and tests making project insights more efficient. They come with various features, providing collapsible and resizable options, date range filters, access to project build histories, and the ability to run traces. Users can rearrange widgets as per their preferences creating a personalized and user-friendly interface for project management.
Project Build History
Navigating to project build history is obtainable from the widget, here users get detailed information about the status of each build, the number of bugs, the initiator, the build date, and the execution time.
Furthermore, there's also a detailed build report where the users can access detailed build information, including status, bug count, and execution time. All in all, the build report offers an in-depth analysis of project performance.
Trace Build History
Trace build history is also accessible from the widget, it offers insights into specific test results, allowing users to address issues efficiently. Users can view detailed reports to understand and resolve any encountered problems.
Detailed trace build reports provide a comprehensive overview of all activities during the testing process, aiding in the identification and resolution of issues.
Conclusion
In summary, efficient and easy-to-understand insights are crucial for managing multiple projects in an organization. The Dashboard UI is here to reach this goal by achieving a user-friendly interface for comprehensive project oversight, enhancing organizational productivity, and ensuring the successful testing of various projects within the organization.
A more detailed guide can be found here.